Dr Chandramohan Nagendran (Chiropractor)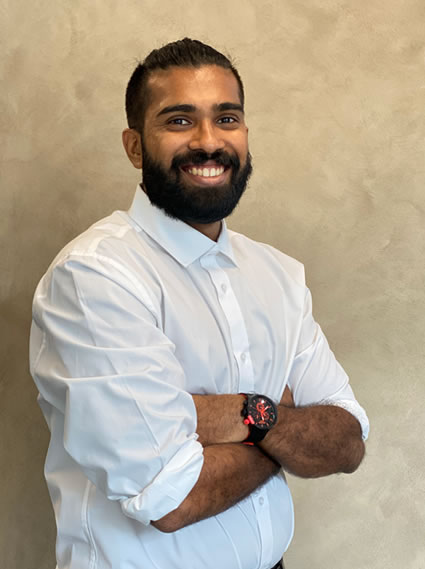 Dr Chandramohan Nagendran, better known as Dr Chandra, was originally from Kuala Lumpur, Malaysia where he lived for 19 years before moving to Perth, Western Australia in 2013 to complete his degree in Chiropractic at Murdoch University.
Dr Chandra is devoted for a life where his patients can benefit more from a non-invasive method of treatment as well as in a holistic approach towards healthy living. In terms of treatment, he feels it is important to not just address the site of pain but to also look at areas close to the complaint as it could be an issue elsewhere that is causing the pain. It is important to analyse how the patient functions to get an idea of where the problem is originating from. His motto is to treat the cause not just the symptoms! Dr Chandra will endeavour to do his best to ensure the patient gets the best care possible and to help the patient improve and live pain free.
His treatment methods include Spinal/Extremity manipulation (diversified), Spinal/Extremity Mobilization, Soft Tissue Therapy, Massage, Gonstead, Rehabilitation exercises as well as general health advice.
Passions and Sports
He has many passions, the main one being futsal/indoor football and he got the opportunity to play professional futsal in Malaysia in the year 2020 with Kuala Lumpur City Futsal Club, over the last 2 years. He has been playing the sport since he was 8 years old and have always wanted to do something related to sports and health, which led him to his choice in the Chiropractic profession.
Some of his hobbies include, playing Indian classical music on the Indian flute, regular sessions at the gym, focusing on strength and conditioning as well as cardio, playing poker, reading self-development books as well as attending these courses. He is also interested in furthering his knowledge in the Chiropractic profession.
Furthermore, he loves doing volunteer work and has volunteered at the Annalakshmi Restaurant in Perth and Kuala Lumpur, and at the annual Swan Festival of Lights in Perth as well as for the Temple of Fine Arts Kuala Lumpur whenever he is in Malaysia.

East Perth Chiropractic Health Centre | (08) 9221 1166